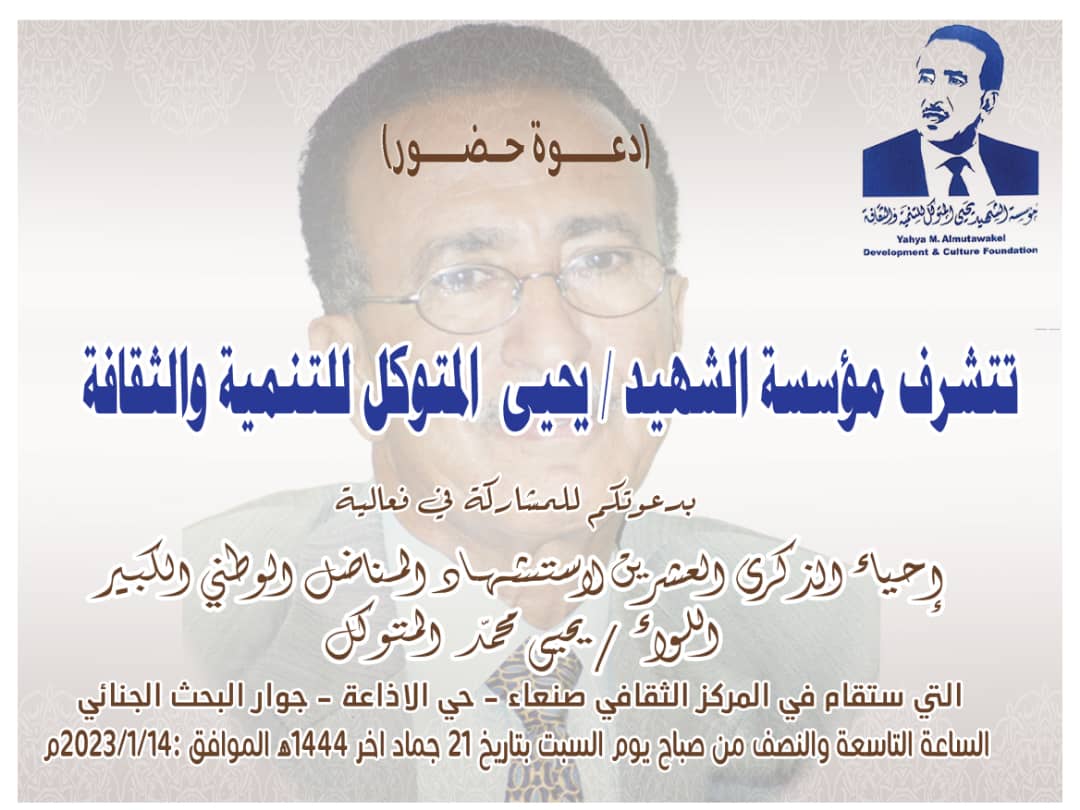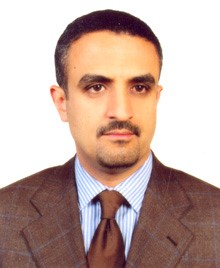 WHO ARE WE?
Yahya Al-Mutawakel Foundation for Development and Culture
In conjunction with the tenth anniversary of the passing of our father Yahya Mohamed Almutawakel, may Allah's mercy be upon him, and in line with his beliefs, ideals and principles to which he dedicated his life, it pleases me to announce the founding of "Yahya Almutawakel Foundation for Development and Culture, YADCF", which aims to achieve my father's vision to elevate Yemen and its ambitious people from poverty, instability and ignorance to knowledge, fortitude and prosperity.
The establishment of this foundation stems from the desire of his admirers to follow in his footsteps in contributing to a new, modern and united Yemen where democracy, justice, freedom, law and order abound.
Surely a strong nations is built not by complacency and passivity but rather by the sincerity, perseverance and hard work of its citizens who are not as much concerned by what their nations can do for them as what they can do for their nations. It is as such that nations prosper and flourish and build their great legacies.
Mohamed Yahya Almutawakel
Chairman of the Board of Trustees
YADCF was established on January 22, 2013 under Founding Resolution No. 1011 of the Ministry of Social Affairs and Labor of the Republic of Yemen, with its headquarters in the capital Sana'a, and its scope of work covering the entire Republic of Yemen.
We seek to contribute to building a civil society that aims to establish  and uphold justice, development and equality before the law in line with our Islamic religion and with the international declarations and covenants for human rights council.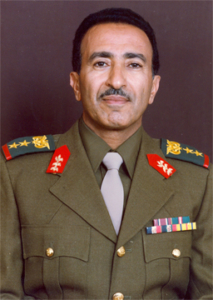 We are a non-government non-profit Yemeni foundation, whose main goal is to contribute to the development of the Yemeni society, and improvement of cultural life in various socio-economic, political and environmental fields and the promotion of democracy, and fostering partnerships and cooperation with local and international organizations in our field.
Preparing studies and research related to the overall socio-economic development and support development issues.

Administering public awareness campaigns on the national level throughout the nation.

Organizing cultural and human rights events.

Providing skills development training, especially for the youth.

Promoting the propagation and development of public libraries.

Any other areas that do not conflict with the foundation system and its objectives and the law of associations and private institutions and civil laws in force.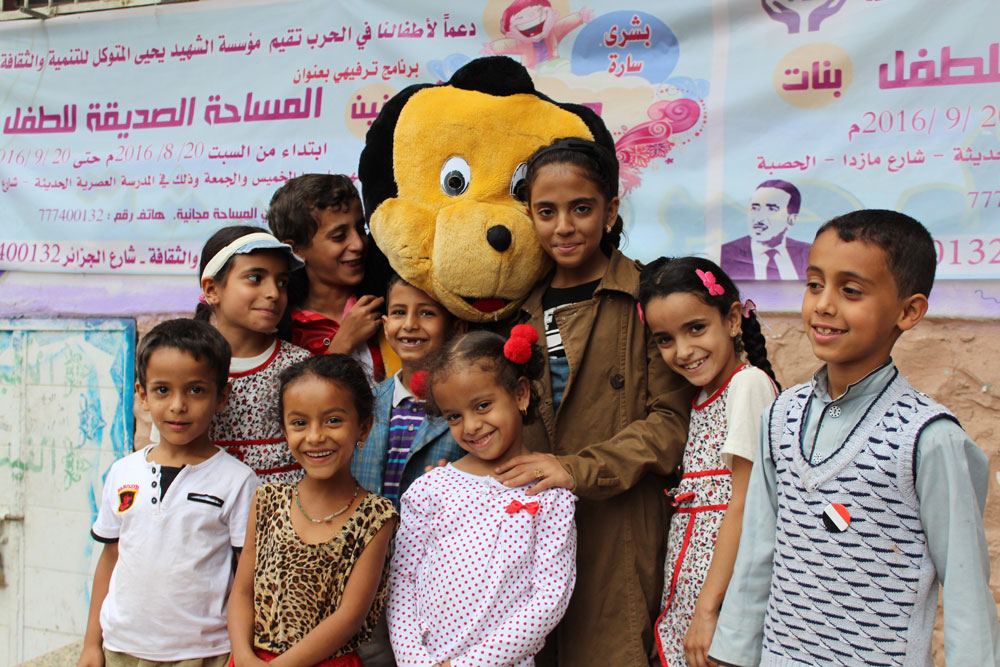 The Training Program on Conflict Resolution Skills – Sana'a – February, 2017.

We have provided two "Friendly Space for children" programs in August 2016 and September 2016 – Sana'a.

We have provided a training program in |First Aid and Psychological Support – Sana'a – May, 2016.

We have provided "Training for Trainers" Program Sana'a – 2016.

We have sponsored a number of college students by providing full financial support for a number of low-income students with partnership with Youth Leadership Development Foundation.

We have furnished a library for Yahya Almutawakel School in Bani Huwat Suburb, Sana'a Governorate.

We have sponsored some college graduation events for the students for several batches.

We have sponsored some college students by funding their final year projects and paying college tuition for several batches to date.

We have sponsored a number of school students by paying school fees for low-income students.

We have provided a water tank for Yahya Almutawakel School in Bani Huwat Suburb, Sana'a Governorate.

Maintenance and rehabilitation works have been done by the foundation for Yahya Almutawakel School- Bani Huwat Suburb, Sana'a Governorate for the period of 2011-2014.

We have provided school uniforms for Aljarr School-Abbs district, Hajjah Governorate.
We have provided donations for some charity collaborations:

Attawakkul Social Charity Association.

Albara'ah Charity Association.

Alwaydan Charity association

Alkhansa'a Association.

Alsulw Sons Charity Club.

Annual funding support for orphan families.

We have provided annual food baskets (during the holy month of Ramadan) for 150 families.

We have sponsored and organized the first football tournament in the name of Yahya Almutawakel at Mukallah city, Hadramaut Governorate (2005).
 We have provided several MSP's in partnership with Yemen Associates for Development (YAD) in Ibb governorate and Sana'a Governorate , and Sana'a City.

We have provided financial aid for some low-income patients with chronic diseases.

We have funded the Lukemia Center for Children at the Kuwait Hospital in Sana'a, which provides care for over 350 children suffering from leukemia.

We have co-sponsored the Diagnosis Campaign Project for some 1000 internally displaced persons (IDPs) in Dhahban district, in partnership with Sam Aid Yemen.
In the field of Economics: Dr. Yahya Yahya Al-Mutawakel

In the field of Public Health : Dr . Abdul-Hakim Al-Kuhlani

In the field of Public Relations and media :Dr. Ibrahim Mohammed Alakwa ( Alyemani uni. Almustaqbal uni.)

In the field of Human Rights:Ms. Amat Alallem Alsusawa

In the area of Engineering and Projects :Dr. / Tarek Barakat
In the field of Education : Ms. Ruqaiia M. Almansour

In the field of Humanitarian Services:  Ms. Amal Al-Ghaffari

In the field of Training and Development :Ms. Samira Ali Alhadi – Program Manager – PMTC

In the field of Agriculture: Engineer / Ali Bahmish – former Secretary General of the Agricultural Union

In the Legal Field : Mr.  Abdullah A. Alsamawy
 Mohammad Y. Almutawakel – President of the Foundation

Ali Y. Almutawakel – Executive Director

Ms. Boushra Y. Almutawakel –  Social Officer

Abdulla Jamil – Legal Officer

Khalil M. Alhouri –  Public Relations Officer

 Hani Y. Alqaizal –  Financial Officer